McKay Custom Saddlery
Burns Oregon
Steve McKay 541-495-2334
The McKay Custom Saddlery hand crafted Buckaroo Bulldogs and Tapadero Page!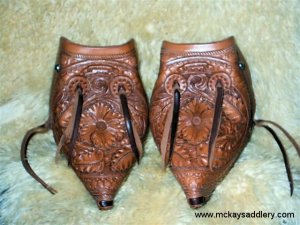 McKay Saddlery Custom Bulldogs
This is an amazing pair of Buckaroo Bulldogs handcrafted by Steve McKay. A combination of function and art and created from the highest quality material available. Take a closer look at this item you will not believe the attention to detail!
Floral Tooled Outside and Front
Serpentine AND Rope Border Tooling
Inside Basket Stamped
$450.00
McKay Custom Saddlery Tapadero
McKay Custom Saddlery
Steve McKay
Burns Oregon
541-495-2334